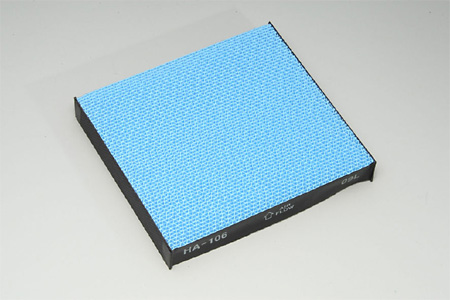 - ECO Clean / Air Conditioner Filter -
* It realizes strong deodorization and antibacterial by a photo catalyst function.
Photo catalyst (Titania) resolves various and viruses such as a colon bacillus, the O157 and germs.
It disintegrates mold and smell of the cigarette and drain clean air without the smell to the room with cleanliness.
* It is effective in pollen and exhaust gas.
It shut out pollen and the fine particles of the exhaust gas and is effective in an anti-allergy measure.
* There is not it in the genuine disposable item, and recycling is possible.
It is an eco-type to be usable by periodical maintenance repeatedly.
* It is possible to washing in the water easily.
The periodical maintenance is OK by washing in water.
It revives by the effect by the sun airing.
ECO Clean / Air Conditioner Filter Application Chart

Vehicle
Model
Year
Product ID
Part Number
Install Time(H)
Notes
PRIUS C / AQUA
NHP10
2011.12~
エコクリーン・エアコンフィルター【販売終了】
87139-TS001【販売終了】
0.5
ALLION
NZT260 / ZRT26#
2007.6~2014.9
エコクリーン・エアコンフィルター【販売終了】
87139-TS001【販売終了】
0.5
ALPHARD
GGH2#W / ANH2#W
2008.5~2014.12
エコクリーン・エアコンフィルター【販売終了】
87139-TS001【販売終了】
0.5
ist
NCP11# / ZSP110
2007.7~
エコクリーン・エアコンフィルター【販売終了】
87139-TS001【販売終了】
0.5
VANGUARD
ACA3# / GSA33
2007.8~
エコクリーン・エアコンフィルター【販売終了】
87139-TS001【販売終了】
0.5
WISH
ZGE2#W/G
2009.4~
エコクリーン・エアコンフィルター【販売終了】
87139-TS001【販売終了】
0.5
VITZ
KSP90 / NCP9# / SCP90
2005.1~2010.12
エコクリーン・エアコンフィルター【販売終了】
87139-TS001【販売終了】
0.5
VELLFIRE
GGH2#W / ANH2#W
2008.5~2014.12
エコクリーン・エアコンフィルター【販売終了】
87139-TS001【販売終了】
0.5
VOXY
ZRR7#
2007.6~2014.2
エコクリーン・エアコンフィルター【販売終了】
87139-TS001【販売終了】
0.5
ESTIMA
ACR5#W/ GSR5#W
2006.1~
エコクリーン・エアコンフィルター【販売終了】
87139-TS001【販売終了】
0.5
ESTIMA_HYBRID
AHR20W
2006.6~
エコクリーン・エアコンフィルター【販売終了】
87139-TS001【販売終了】
0.5
CROWN_ATHLETE
GRS18#
2003.12~2008.1
エコクリーン・エアコンフィルター【販売終了】
87139-TS001【販売終了】
0.5
CROWN_ATHLETE
GRS20#
2008.2~2012.12
エコクリーン・エアコンフィルター【販売終了】
87139-TS001【販売終了】
0.5
CROWN_MAJESTA
URS20#
2009.3~2013.8
エコクリーン・エアコンフィルター【販売終了】
87139-TS001【販売終了】
0.5
CROWN_MAJESTA
UZS18#
2004.7~2008.12
エコクリーン・エアコンフィルター【販売終了】
87139-TS001【販売終了】
0.5
CROWN_ROYAL
GRS18#
2003.12~2008.1
エコクリーン・エアコンフィルター【販売終了】
87139-TS001【販売終了】
0.5
CROWN_ROYAL
GRS20#
2008.2~
エコクリーン・エアコンフィルター【販売終了】
87139-TS001【販売終了】
0.5
PRIUS
Gs(ZVW30)
2011.12~2015.12
エコクリーン・エアコンフィルター【販売終了】
87139-TS001【販売終了】
0.5
PRIUS
ZVW30
2009.5~2015.12
エコクリーン・エアコンフィルター【販売終了】
87139-TS001【販売終了】
0.5
PRIUS V / PRIUS ALFA
ZVW4#
2011.05~2014.5
エコクリーン・エアコンフィルター【販売終了】
87139-TS001【販売終了】
0.5
BLADE/BLADE_MASTER
AZE15# / GRE156
2006.12~2010.3
エコクリーン・エアコンフィルター【販売終了】
87139-TS001【販売終了】
0.5
MARK_X
GRX12#
2004.11~2009.9
エコクリーン・エアコンフィルター【販売終了】
87139-TS001【販売終了】
0.5
LEXUS_GS
GRS19# / UZS190 / URS190 / GWS191
2005.8~2011.12
エコクリーン・エアコンフィルター【販売終了】
87139-TS001【販売終了】
0.5
LEXUS_IS
GSE2#
2005.8~2013.4
エコクリーン・エアコンフィルター【販売終了】
87139-TS001【販売終了】
0.5
LEXUS_IS-F
USE20
2007.11~2014.5
エコクリーン・エアコンフィルター【販売終了】
87139-TS001【販売終了】
0.5
LEXUS_LS
USF4# / UVF4#
2006.8~
エコクリーン・エアコンフィルター【販売終了】
87139-TS001【販売終了】
0.5
LEXUS LX
URJ201
2015.8~
エコクリーン・エアコンフィルター【販売終了】
87139-TS001【販売終了】
0.5
LEXUS NX
AGZ1# / AYZ1#
2014.7~
エコクリーン・エアコンフィルター【販売終了】
87139-TS001【販売終了】
0.5
LEXUS_RX
GGL1# / GYL1# / AGL1#W
2008.12~2015.10
エコクリーン・エアコンフィルター【販売終了】
87139-TS001【販売終了】
0.5
*** For performance keep, we recommend periodical maintenance every season. (Washing in the water, the sun airing of around 6 hours)