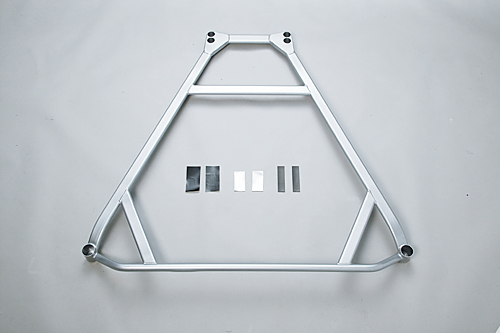 Provides a safe feeling and improves steering by increasing body rigidity.
Body Brace Application Chart

Vehicle
Model
Year
Engine Code
Part Number
Specs
Region
Material
Install Time(H)
Notes
D
D
D
D
D
D
D
D
D
D
S
S
S
S
S
S
S
S
S
S
*1: Vehicles equipped with TOM'S Barrel (17400-TJS63/64/65).
*2: For JZS160 and JZS161 equipped with TOM'S Barrel (17400-TJS62) or 1997 and older OEM factory exhaust systems.
*3: Modifications required when installing on a 90 series vehicle (Bending a 5mm tab & cutting floorboard).
*4: Exhaust systems other than TOM'S Barrel or the factory unit may come in contact.
*5: Vehicles equipped with S Package will require additional components (No.52273-30080x2pcs/52286-30010x2pcs/90119-08A87x4pcs).
*6: Product is discontinued after all inventory is sold.
*7: Removal of front floor covers required on Touring Selection (& Touring Leather Package) manufactured after Sept 2003 and on Premium edition vehicles manufactured from Aug 2004 ~ Nov 2005.
*8: Requires modification of rear floor side member cover.