Please install the latest version of Internet Explorer if images fails to load.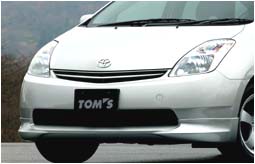 【Front Spoiler】
PRODUCT
Fitting chart
PRODUCT CODE
NOTE
Front Spoiler
Unpainted
PRIUS(NHW20)September,2003 –April,2009

52110-TNW20-Z
Made by ABS
White pearl crystal shine (070)
52110-TNW20-P
White pearl (062)
52110-TNW20-W
Silvermetallic (1F7)
52110-TNW20-N
Silvermetallic (1C0)
52110-TNW20-S
Black (202)
52110-TNW20-B
!! Caution !!
Not all components are listed above and may require additional processing and attention.
Please confirm specific details of each product in the details section for each part.