- Features
Converts factory OEM halogen lamp to a HID system. By upgrading to a HID system, the light intensity on the fog lamps are increased as well as improved color characteristics.
- Specs
Converts factory OEM halogen lamps to HID (Xenon).
Includes: HID Bulb, 25w Ballast, Ballast Mounts 2pcs, Relay Harness, Misc Hardware
Bulb Specification: HB3/4, H8/9/11
Voltage: 12.0v
Color Temp: 5500k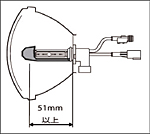 * Product will not fit with internal housing clearance under 51mm.
* Product is designed for universal fitment and may require modifications depending on some applications.
* Light color may look different on some applications due to varying shapes of the fog light housing (size of fog lamp, front lens, reflector). Color of light may vary depending on angle.
* Adjustments to light angle necessary after installation.

H.I.D. FOG LAMP COMVERSION KIT Application Chart

Vehicle
Model
Grade
Year
Product ID
Part Number
Specs
Install Time(H)
Notes
-
-
-
-~-
H.I.D. Fog Lamp Conversion Kit(H8/9/11) 5700K
81001-TSF02
*Includes: HID Bulb, 35w Ballast, Ballast Mounts 2pcs, Relay Harness, Misc Hardware *Bulb Specification: H8/9/11 *Voltage: 12.0v *Color Temp: 5700k
2.0
Fog Lamp
-
-
-
-~-
H.I.D. Fog Lamp Conversion Kit(HB3/4) 5700K soldout
81001-TSF01
*Includes: HID Bulb, 35w Ballast, Ballast Mounts 2pcs, Relay Harness, Misc Hardware *Bulb Specification: HB3/4 *Voltage: 12.0v *Color Temp: 5700k
2.0
FOG LAMP soldout
SAI
AZK10
S
2009.12~2013.8
H.I.D. Fog Lamp Conversion Kit(H8/9/11) 5700K
81001-TSF02
*Includes: HID Bulb, 35w Ballast, Ballast Mounts 2pcs, Relay Harness, Misc Hardware *Bulb Specification: H8/9/11 *Voltage: 12.0v *Color Temp: 5700k
2.0
Fog Lamp
ESTIMA
ACR5#W/ GSR5#W
G/X
2006.1~
H.I.D. Fog Lamp Conversion Kit(H8/9/11) 5700K
81001-TSF02
*Includes: HID Bulb, 35w Ballast, Ballast Mounts 2pcs, Relay Harness, Misc Hardware *Bulb Specification: H8/9/11 *Voltage: 12.0v *Color Temp: 5700k
2.0
Fog Lamp
CROWN_ATHLETE
GRS20#
ALL
2008.2~2012.12
H.I.D. Fog Lamp Conversion Kit(H8/9/11) 5700K
81001-TSF02
*Includes: HID Bulb, 35w Ballast, Ballast Mounts 2pcs, Relay Harness, Misc Hardware *Bulb Specification: H8/9/11 *Voltage: 12.0v *Color Temp: 5700k
2.0
Fog Lamp
PRIUS
ZVW30
ALL
2009.5~2011.12
H.I.D. Fog Lamp Conversion Kit(H8/9/11) 5700K
81001-TSF02
*Includes: HID Bulb, 35w Ballast, Ballast Mounts 2pcs, Relay Harness, Misc Hardware *Bulb Specification: H8/9/11 *Voltage: 12.0v *Color Temp: 5700k
2.0
Fog Lamp
PRIUS V / PRIUS ALFA
ZVW4#
ALL
2011.05~
H.I.D. Fog Lamp Conversion Kit(H8/9/11) 5700K
81001-TSF02
*Includes: HID Bulb, 35w Ballast, Ballast Mounts 2pcs, Relay Harness, Misc Hardware *Bulb Specification: H8/9/11 *Voltage: 12.0v *Color Temp: 5700k
2.0
Fog Lamp
MARK_X
GRX13#
ALL
2009.10~
H.I.D. Fog Lamp Conversion Kit(H8/9/11) 5700K
81001-TSF02
*Includes: HID Bulb, 35w Ballast, Ballast Mounts 2pcs, Relay Harness, Misc Hardware *Bulb Specification: H8/9/11 *Voltage: 12.0v *Color Temp: 5700k
2.0
Fog Lamp
LEXUS CT
ZWA10
ALL
2010.12~
H.I.D. Fog Lamp Conversion Kit(H8/9/11) 5700K
81001-TSF02
*Includes: HID Bulb, 35w Ballast, Ballast Mounts 2pcs, Relay Harness, Misc Hardware *Bulb Specification: H8/9/11 *Voltage: 12.0v *Color Temp: 5700k
2.0
Fog Lamp
LEXUS_IS
GSE2#
ALL
2010.8~
H.I.D. Fog Lamp Conversion Kit(H8/9/11) 5700K
81001-TSF02
*Includes: HID Bulb, 35w Ballast, Ballast Mounts 2pcs, Relay Harness, Misc Hardware *Bulb Specification: H8/9/11 *Voltage: 12.0v *Color Temp: 5700k
2.0
Fog Lamp
LEXUS_IS-F
USE20
IS-F
2007.11~
H.I.D. Fog Lamp Conversion Kit(H8/9/11) 5700K
81001-TSF02
*Includes: HID Bulb, 35w Ballast, Ballast Mounts 2pcs, Relay Harness, Misc Hardware *Bulb Specification: H8/9/11 *Voltage: 12.0v *Color Temp: 5700k
2.0
Fog Lamp